---
Peer, Peer, Peer, and Peer

Peer, Peer, Peer, and Peer
is a private collaborative meeting space and publishing platform that explores consent, trust, synchronicity, and generosity on the
peer-to-peer web
. Created with
Kit Son Lee
, Will Mianecki, and
Lai Xu
,
Peer, Peer, Peer, and Peer
can only be accessed if we are all present on the site at the same time. Once on the site, the peers share and publish projects, readings, and references through a chat interface that also serves as a collective site navigation.
2020
Thesis work, website
Unlocking the site with all peers present and committing to our Code of values
Navigating the site, viewing Hypertexts (readings) and Contributions (published projects)
---
How to Get a Diamond
A near-obsessive search to obtain a diamond for free, tracked through a cryptic blog. The personality behind the site, Dee Diamonds, documents all her attempts to obtain a diamond on her own terms, whether through formal requests to distributors or time spent probing divorce forums and mine locations. Through layers of pop-up windows, readers follow her quest, simultaneously tracking the tension between societal expectations and personal desire.
2020
Thesis work, website, front-end development, research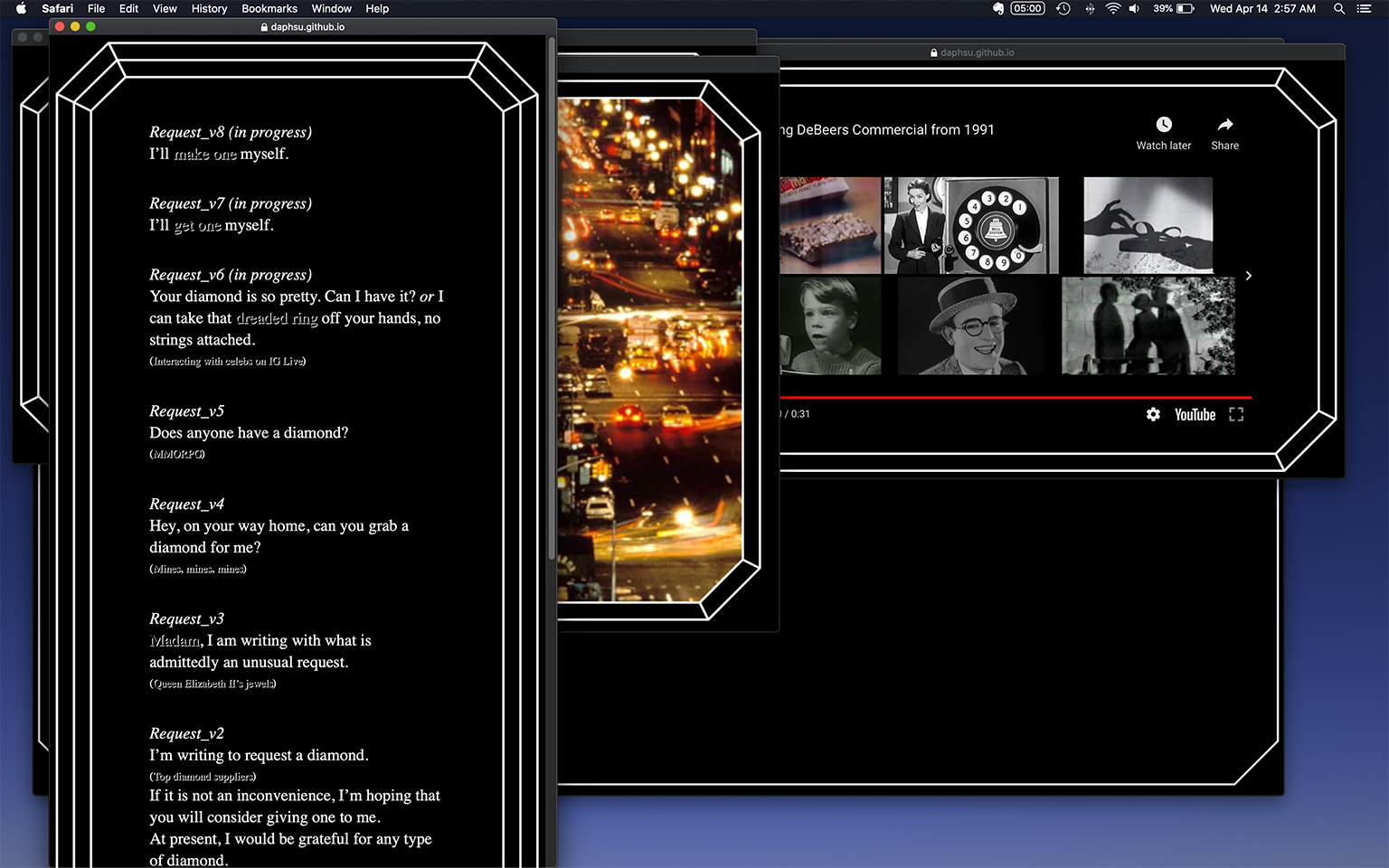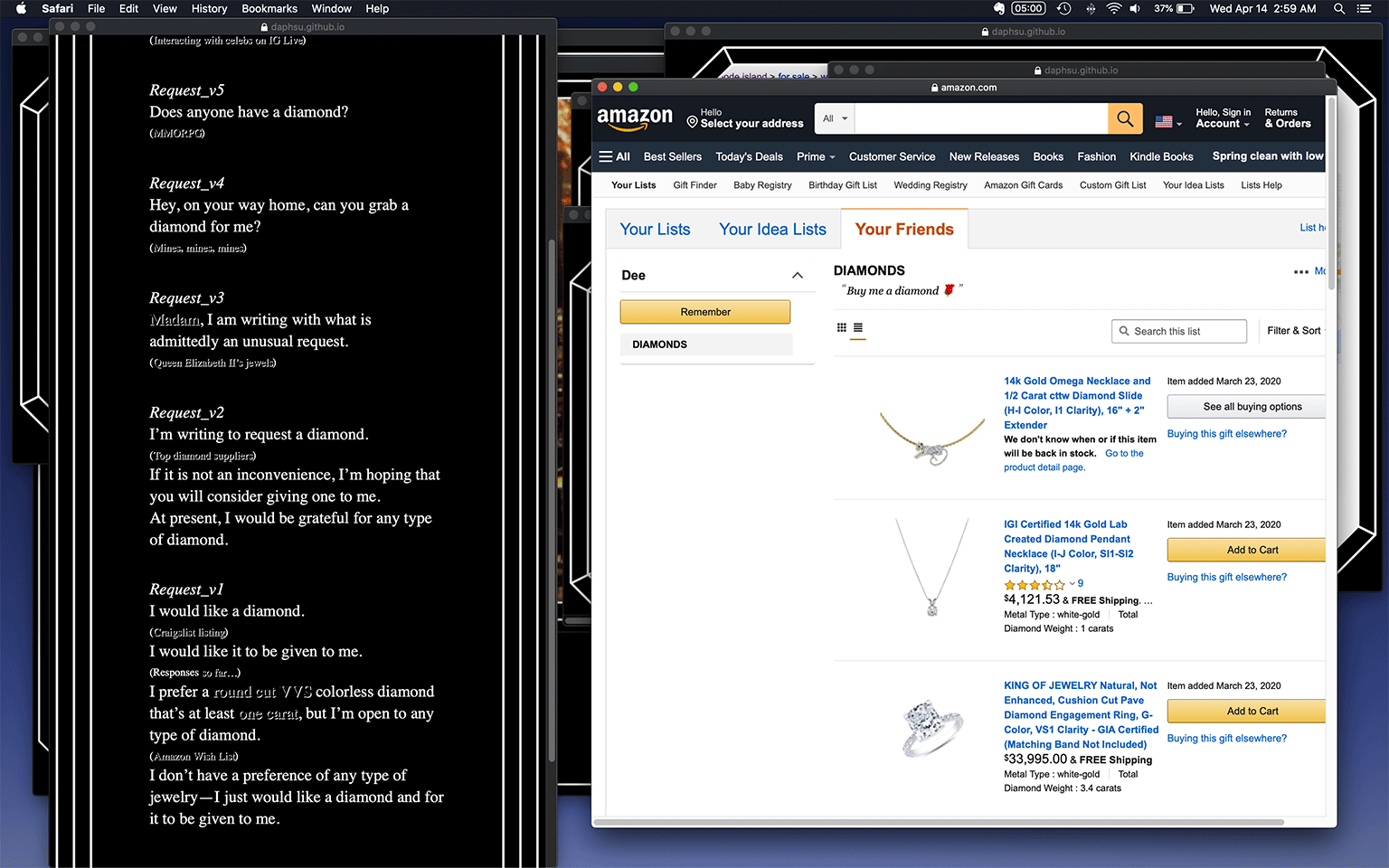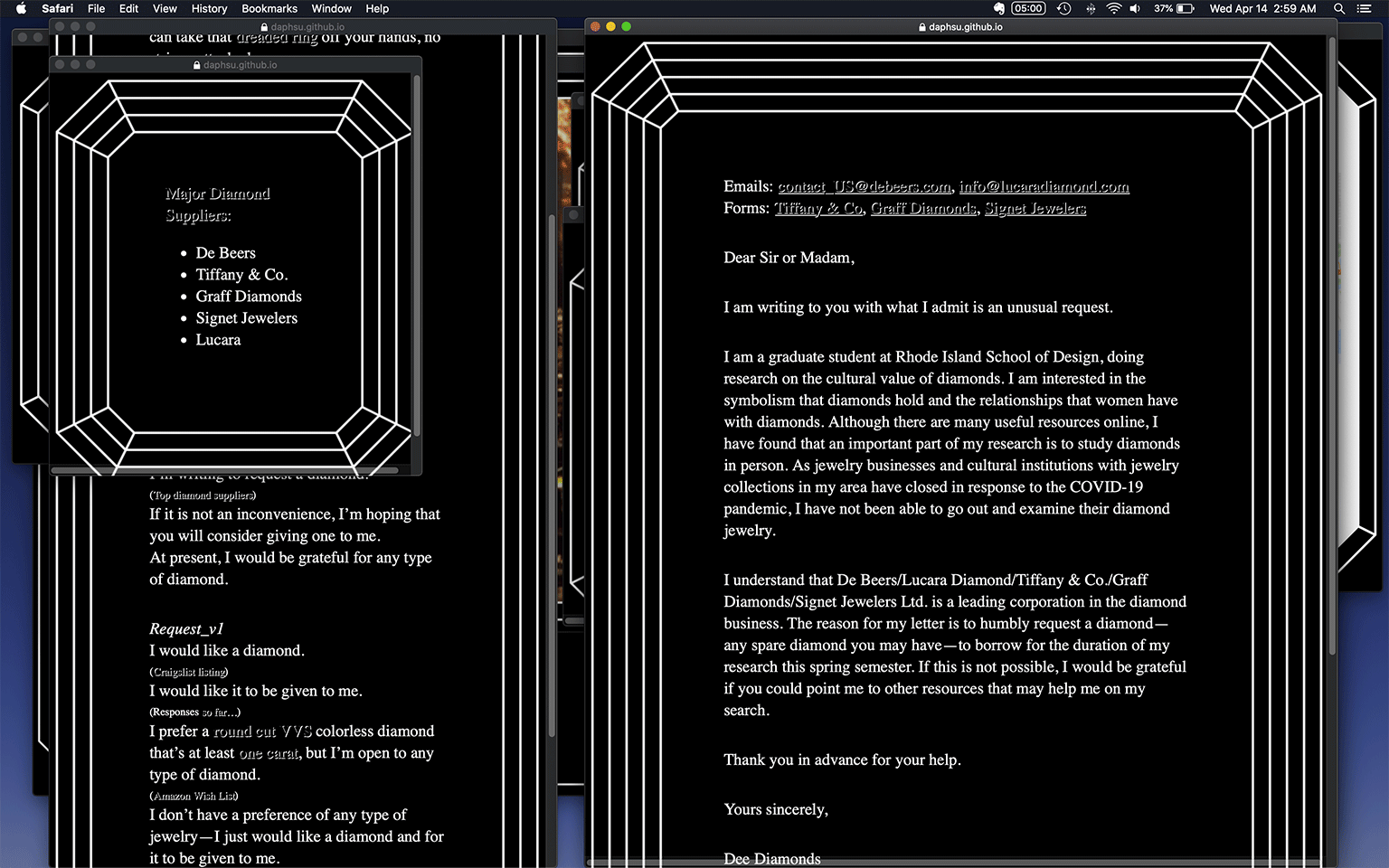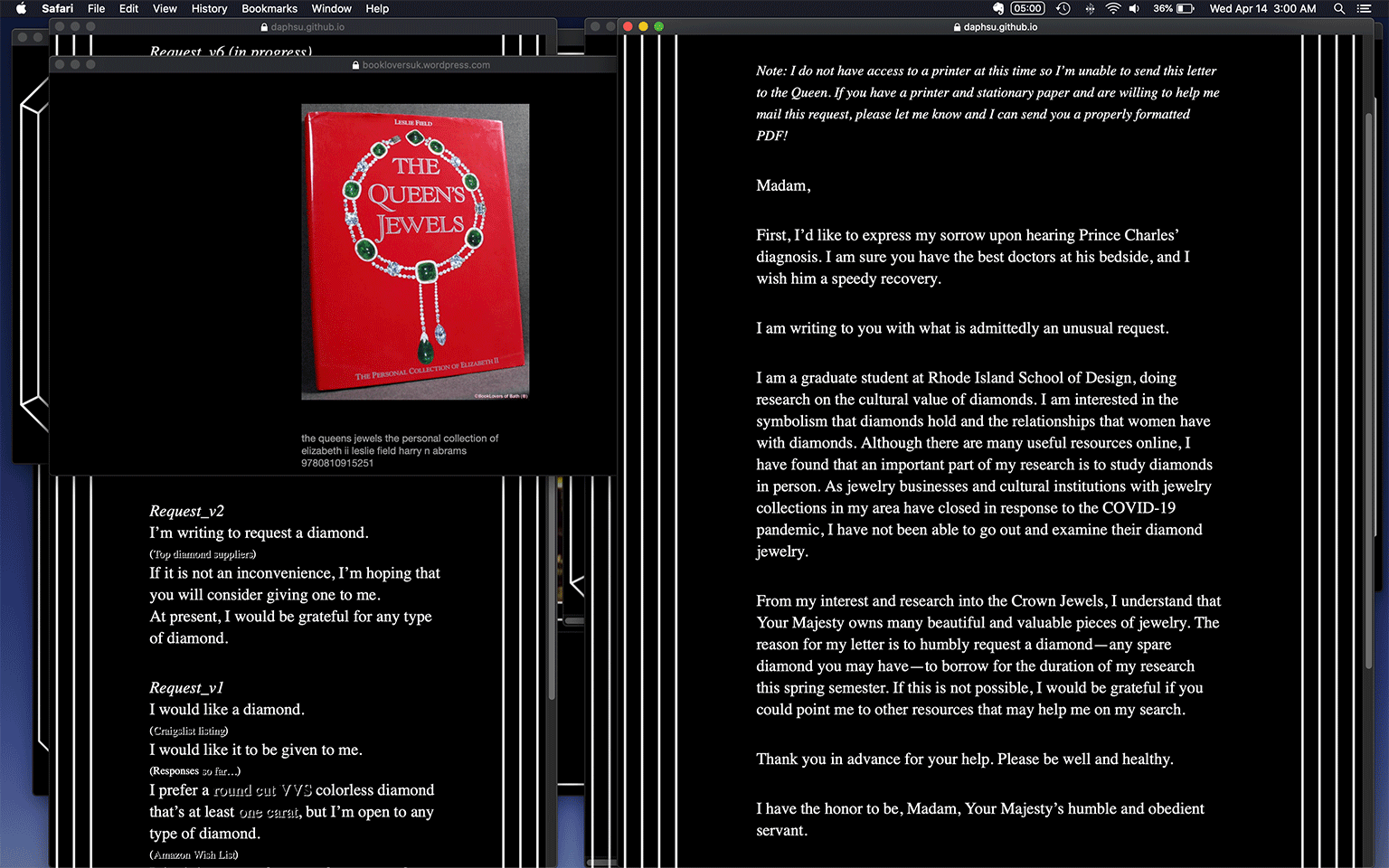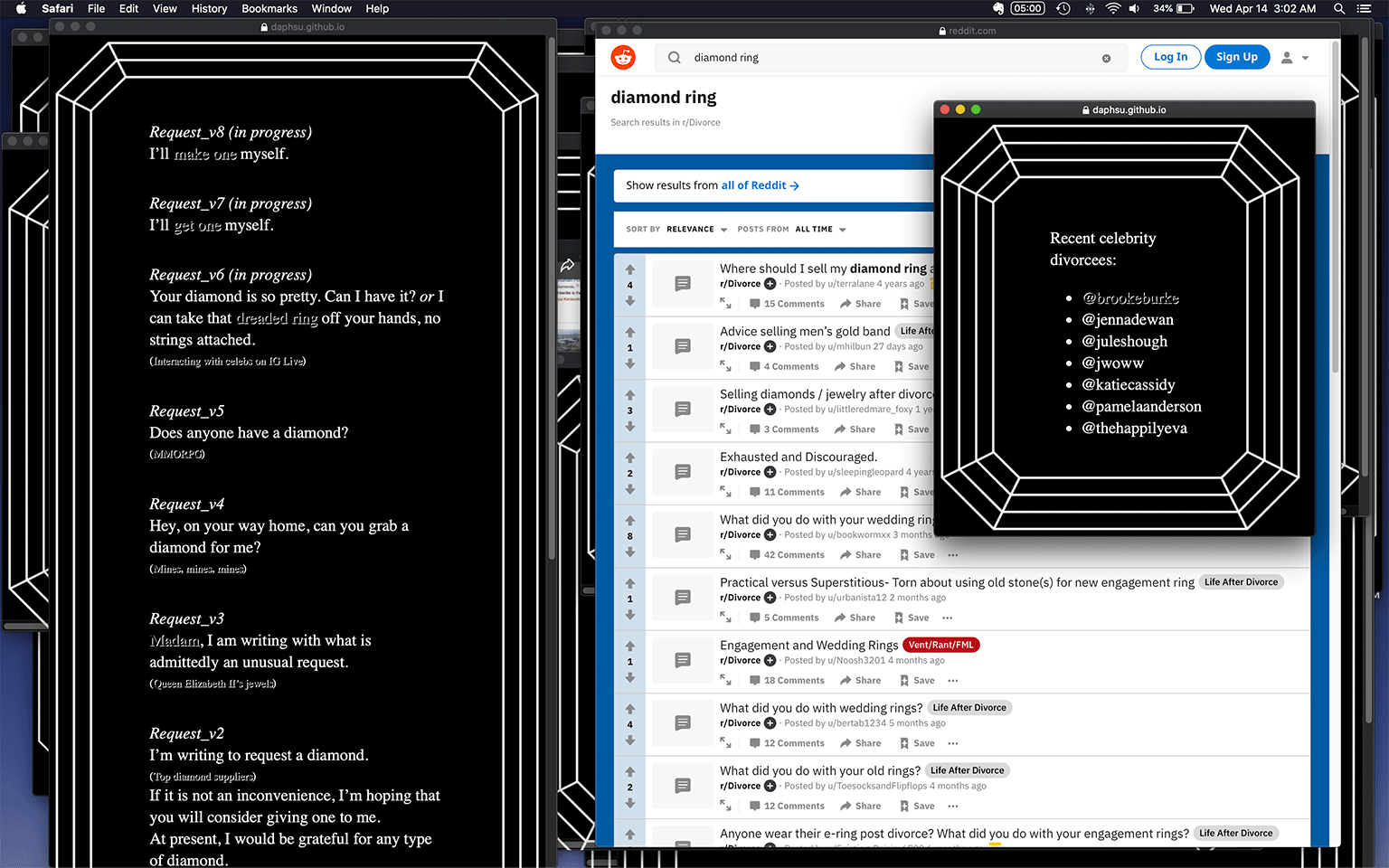 ---
Daphne Hsu is a Brooklyn-based freelance graphic designer. She works collaboratively on brand identities, publications, websites, exhibitions, and campaigns. She enjoys working with content and visual systems as well as engaging audience interaction and participation.
She received her MFA from Rhode Island School of Design and B.Des from University of Washington. Previously, she held a Principal Designer role on the Creative Campaigns team at Nordstrom. Her current projects include conceptualizing a brand refresh, helping put together the forthcoming
Anti-Sweep Chinatown
zine, and preparing to teach a typography class.
Please get in touch!
hello@daphnehsu.com
All work on this site © Daphne Hsu, 2023