---
Peer, Peer, Peer, and Peer

2020
Thesis work, website
Peer, Peer, Peer, and Peer
is a private collaborative meeting space and publishing platform that explores consent, trust, synchronicity, and generosity on the
peer-to-peer web
. Created with
Kit Son Lee
, Will Mianecki, and Lai Xu,
Peer, Peer, Peer, and Peer
can only be accessed if we are all present on the site at the same time. Others can join through a ritualized invitation process. Once on the site, the peers share and publish projects, readings, and references through a chat interface that also serves as a collective site navigation.
Unlocking the site with all peers present and committing to our Code of values

Navigating the site, viewing Hypertexts (readings) and Contributions (published projects)
---
How to Get a Diamond
2020
Thesis work, website, front-end development, research

What began as a lighthearted list of all the ways to obtain a diamond for free turned into a near-obsessive search, tracked through a cryptic blog. The personality behind the site, Dee Diamonds, documents all her attempts to obtain a diamond on her own terms, whether through formal requests to diamond distributors, Craigslist posts, or time spent probing divorce forums and diamond mine locations. Through layers of pop-up windows, readers follow her quest, which slowly reveals the tense relationship between societal expectations and personal desire.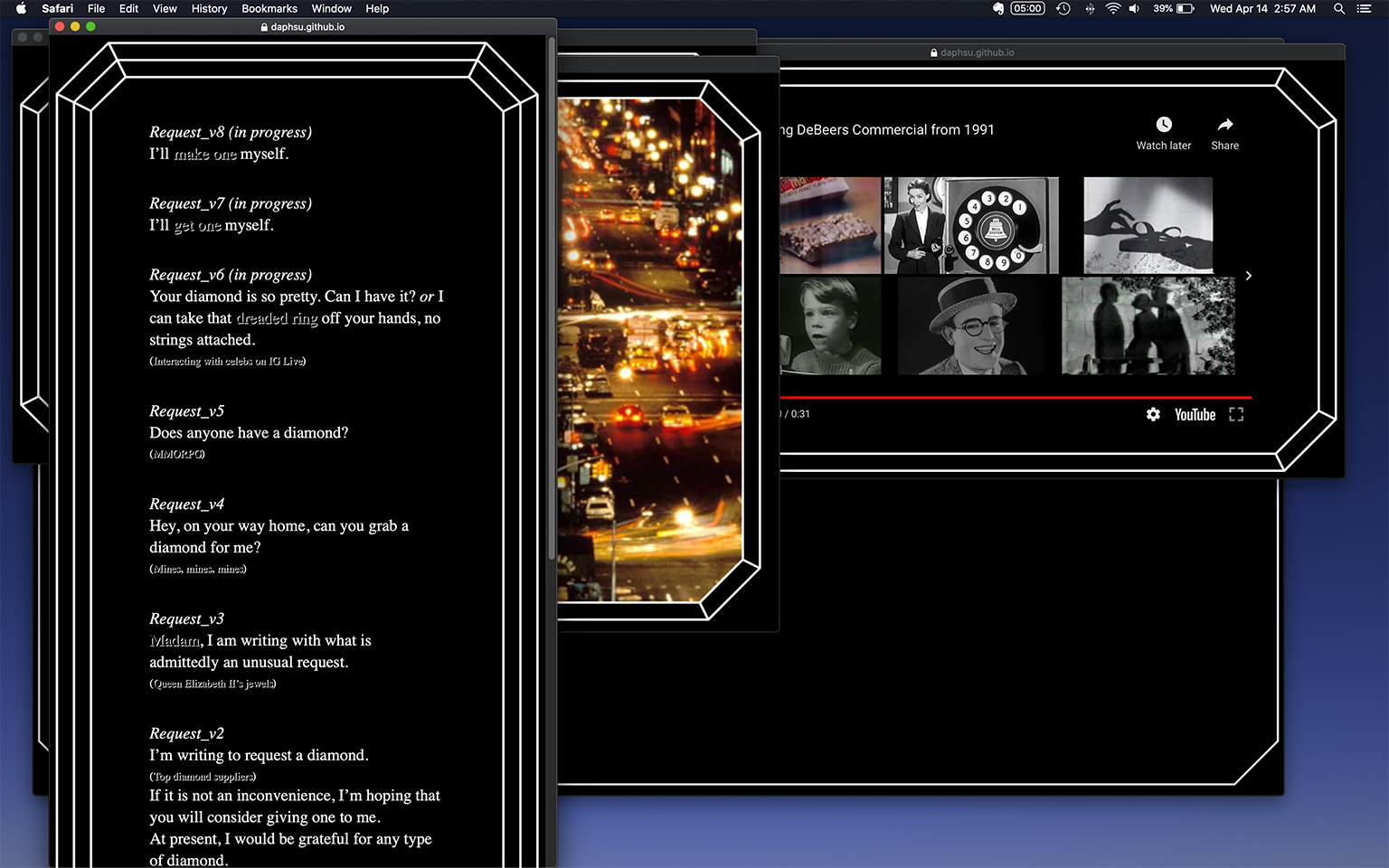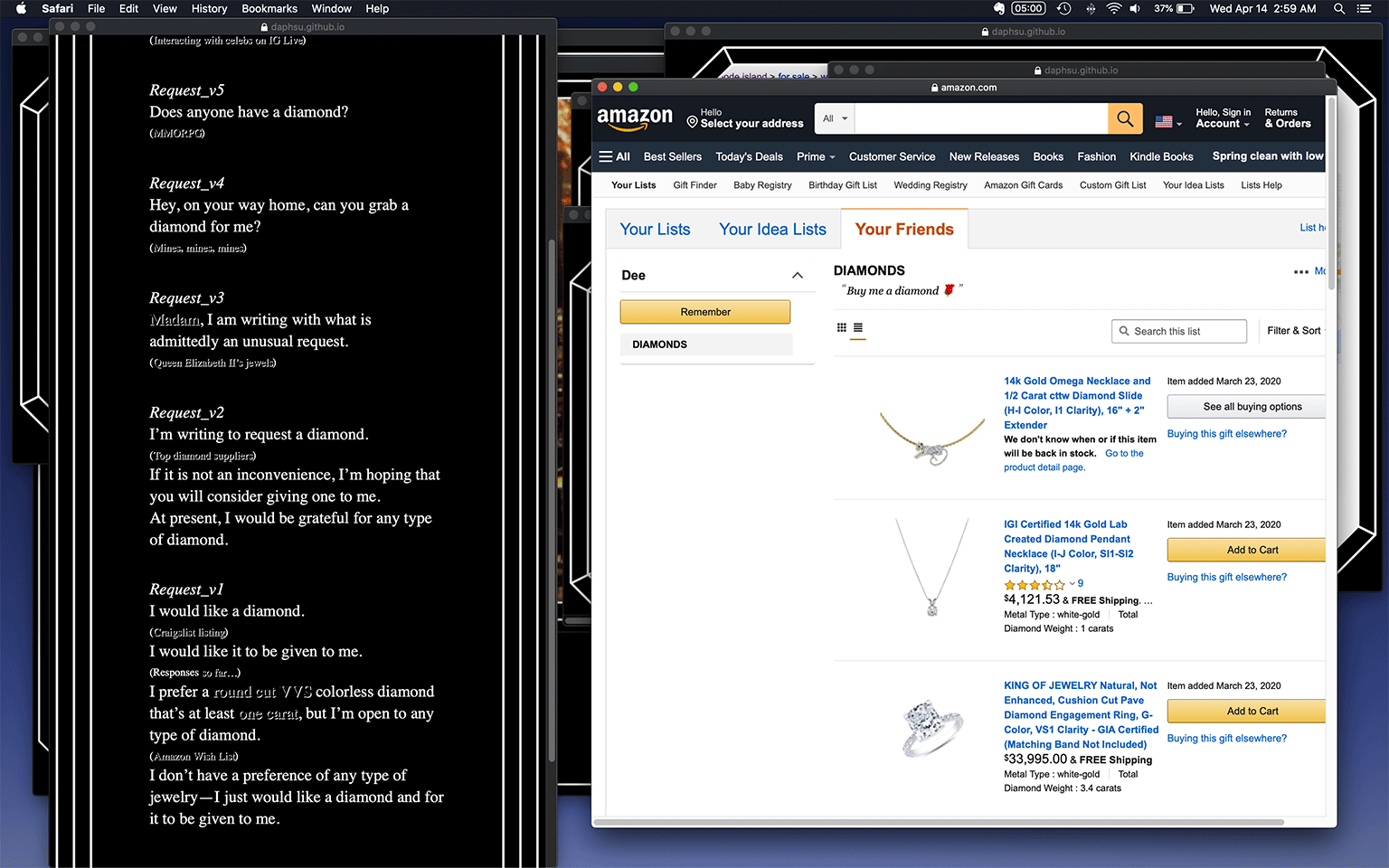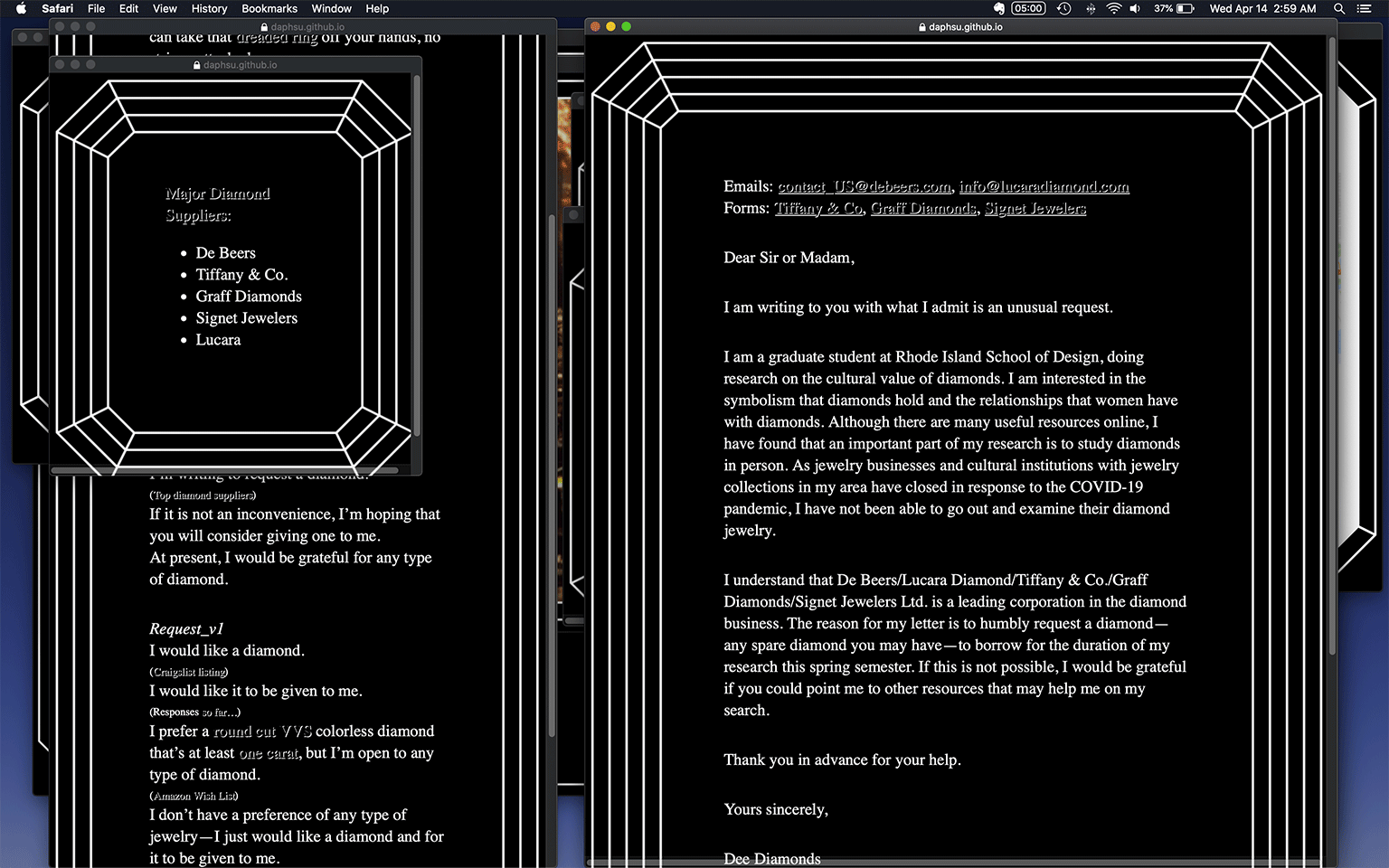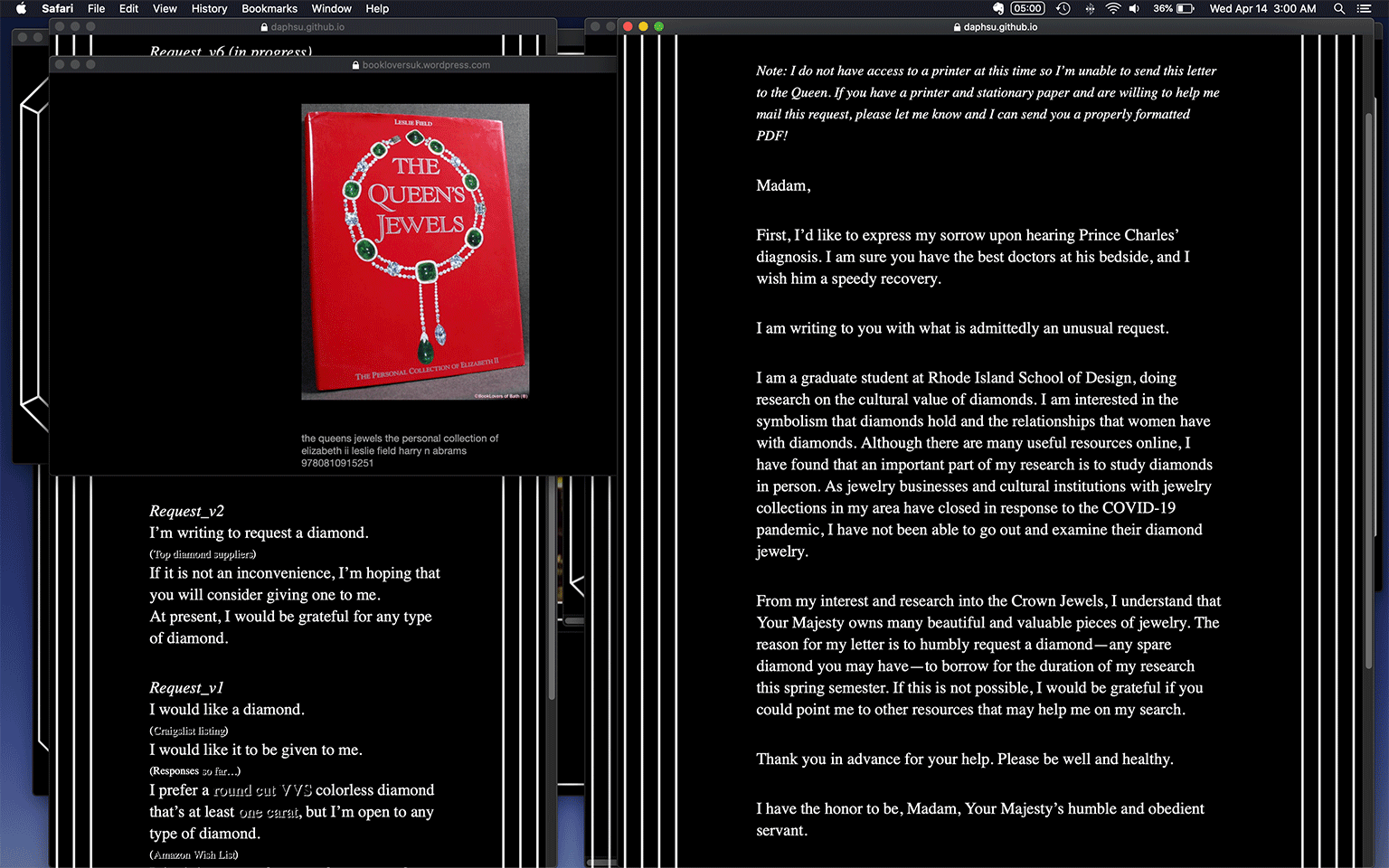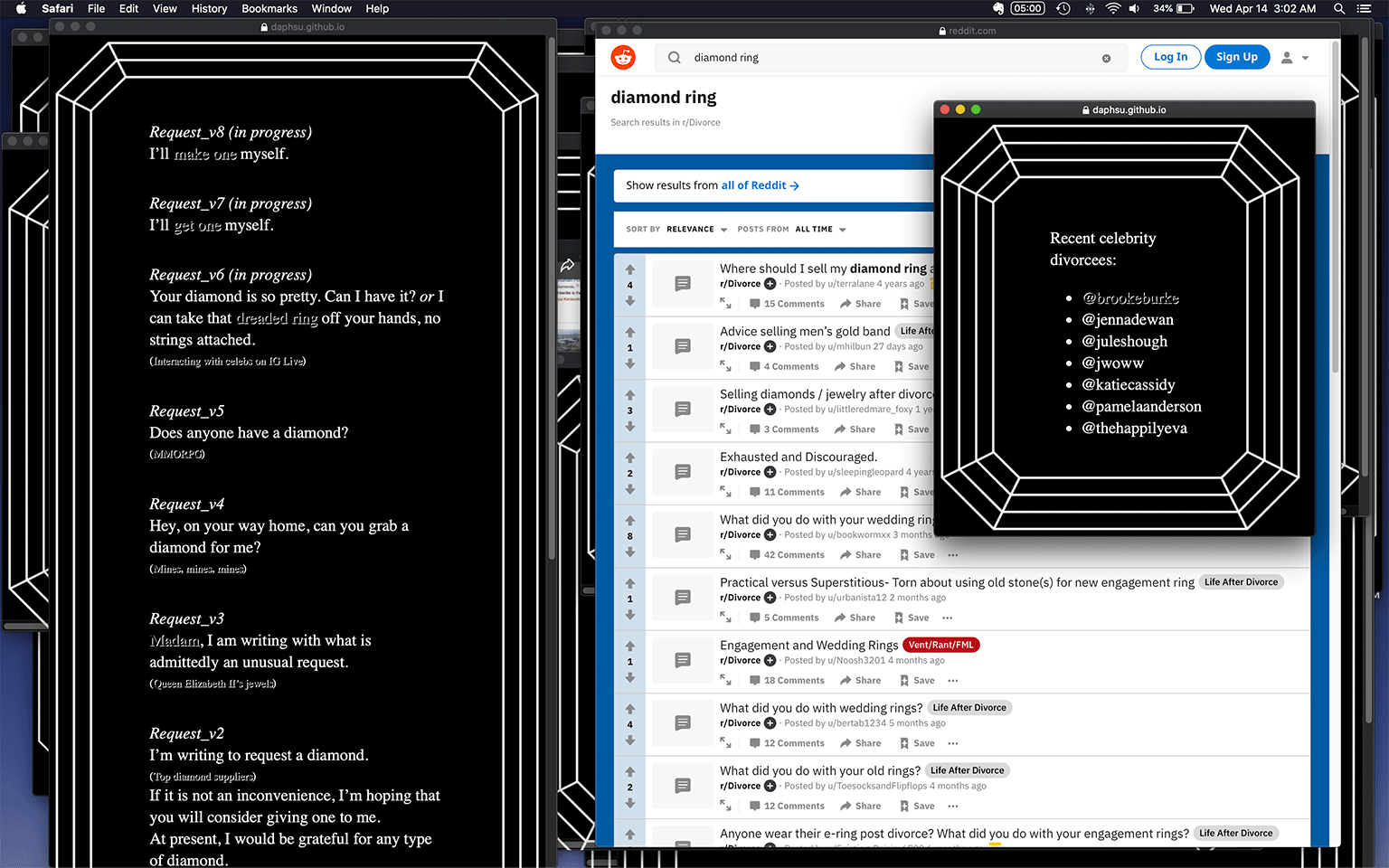 ---
Daphne Hsu is a graphic designer. She works collaboratively on projects involving visual systems, like brand identities, publications, websites, and campaigns.
Some more facts: received an MFA in Graphic Design from RISD and B.Des in Visual Communication Design from University of Washington, taught
Introduction to Graphic Design
at RISD as a graduate instructor, formerly a Principal Designer at Nordstrom, made jewelry with Chloe Huber as part of
Yang & Long
, catalogues
design school briefs
, enjoys swimming and listening to Who? Weekly.
For more facts or to work together:
hello@daphnehsu.com
All work on this site © Daphne Hsu, 2022