---
Video Chat Compositions
2020–2021
Thesis work, experiential design
Enactments of a series of instructions that simulate connection and collaboration through the computer screen. In
Video Chat Compositions
, a minimum of two people on Zoom work together to create compositions with their bodies, whether
making the letters of the alphabet
(top),
hugging
(bottom left), or
connecting parallel lines
(bottom right).
---
Pop-In Eats More
2018
Identity system, art direction, website
Branding, art direction, and website design for a pop-up shop centered around food and gathering. The act of hosting a dinner party informed the website experience (a horizontal table setting cycling through prep, party, and clean-up), photography, and how-to videos.

The online shopping experience resembled a long horizontal table setting that depicted scenes from party prep to party time to clean-up.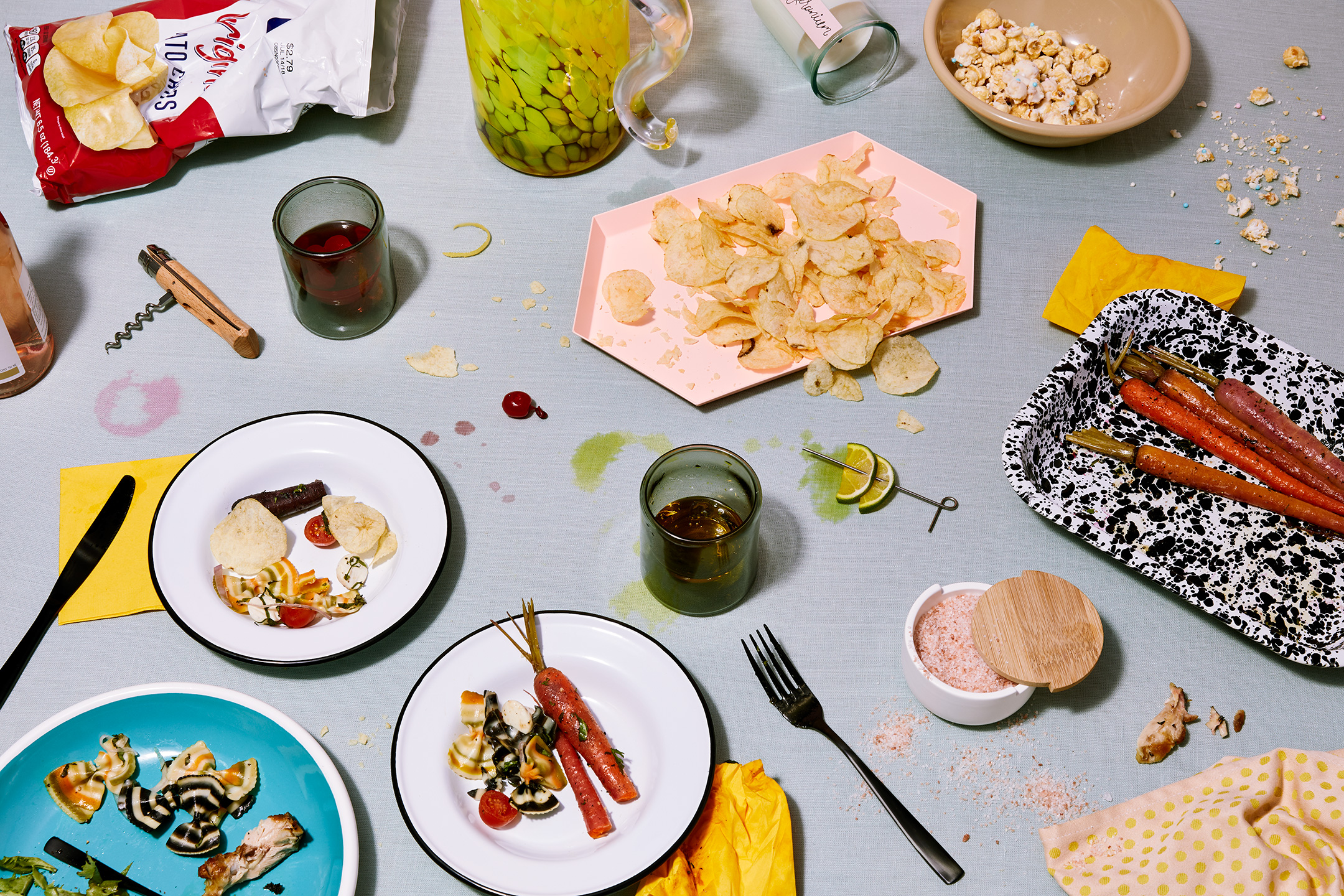 These semi-helpful guides provide play off of Instagram and Buzzfeed how-to videos.
Photos by
Manuela Insixiengmay
, set design and prop styling by
Mandy Kehoe
, styling by Kimberly Douglass Blatt, videos by Brad Curran, and dinner party modeled by the hands and arms of Anisa, Bonnie, Jasmine, Katherine, Misty, Ryan, and me.
---
Daphne Hsu is a graphic designer. She works collaboratively on projects involving visual systems, like brand identities, publications, websites, and campaigns.
Some more facts: received an MFA in Graphic Design from RISD and B.Des in Visual Communication Design from University of Washington, taught
Introduction to Graphic Design
at RISD as a graduate instructor, formerly a Principal Designer at Nordstrom, made jewelry with Chloe Huber as part of
Yang & Long
, catalogues
design school briefs
, enjoys swimming and listening to Who? Weekly.
For more facts or to work together:
hello@daphnehsu.com
All work on this site © Daphne Hsu, 2022